GP surgeries or community clinics should offer to remove earwax if a build-up is contributing to someone's hearing loss.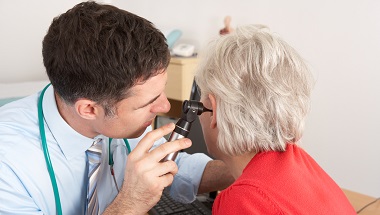 This means patients do not need to be referred to a specialist ear, nose and throat (ENT) service for the same procedure, new draft guidance from NICE says.
Earwax can be removed using an electronic machine that pumps water into the ear at a controlled pressure, known as ear irrigation.
Patients should be given ear drops to soften the wax before irrigation, the draft guidance says.
Other methods of removing earwax include microsuction and manual removal. Microsuction can only be used if the correct training and equipment is in place, NICE says.
Ear syringing, where a manual syringe pumps water into the ear, is potentially harmful and should not be used.
Katherine Harrop-Griffiths, consultant in audiovestibular medicine and chair of the guideline committee, said: "Earwax build-up which is causing hearing problems should be managed in primary or community care.
"Ear irrigation is an effective method of removing earwax. Ear drops should be used to soften the wax before irrigation, either immediately before or for up to five days before the procedure."
If people have hearing difficulties that are not caused by earwax or an infection and are presenting for the first time, they should be referred to an audiology service for an assessment regardless of their age, the draft guidance recommends.
Early and appropriate management of hearing difficulties is also important. Particular reference is made to those with learning or cognitive difficulties such as dementia who may not be aware of their hearing problems.
For someone with sudden hearing loss where the cause is not obvious, they should be referred immediately to a specialist service or to an emergency department, if appropriate, the draft guidance says.
Other recommendations focus on audiological care including assessment, when to provide hearing aids, review and aftercare. Advice and support for individuals and their families is also recommended.
Professor Mark Baker, director of the centre for guidelines at NICE, said: "Our draft recommendations can help improve care for people with hearing loss through better management of earwax and referring people with symptoms to the right service at the right time. We encourage those working in primary and specialist services, patients and stakeholders to comment on the proposed advice."
UPDATE: The final guideline can be found here. We have also published a draft quality standard on hearing loss (adult onset), which is out for public consultation until 12 March 2019.